---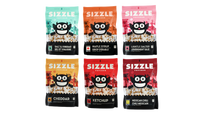 Redeem your code here: https://sizzlepopcorn.com/collections/sizzle-packs/products/super-sizzle-6-pack
Shipping not included. Available for shipping to US, Canada & UK
Once again, we made the choice super duper easy for you and basically gave you no choice. All 6 Sizzle Flavors in one poppin' crazy super bundle. Here is your chance to get every single flavor of Sizzle. Combinations galore and flavors even more. Which one is your fave?
Stay Sizzlin' 
The Ultimate 6-Pack Includes: (1) Ketchup, (1) Cheddar, (1) Salt & Vinegar, (1) MC, (1) Lightly Salted & (1) Maple Syrup
Made with NON-GMO Canadian Sourced Popcorn, Canola Oil & Salt. 3 Ingredients! (plus flavor seasoning per flavor)
Instructions:
Once the order is completed, you will receive an email from SendOwl with the 100% off discount code on the Sizzle Popcorn website.
To use your code, go to https://sizzlepopcorn.com/collections/sizzle-packs/products/super-sizzle-6-pack
Add to cart and enter the discount at checkout. Then enjoy!